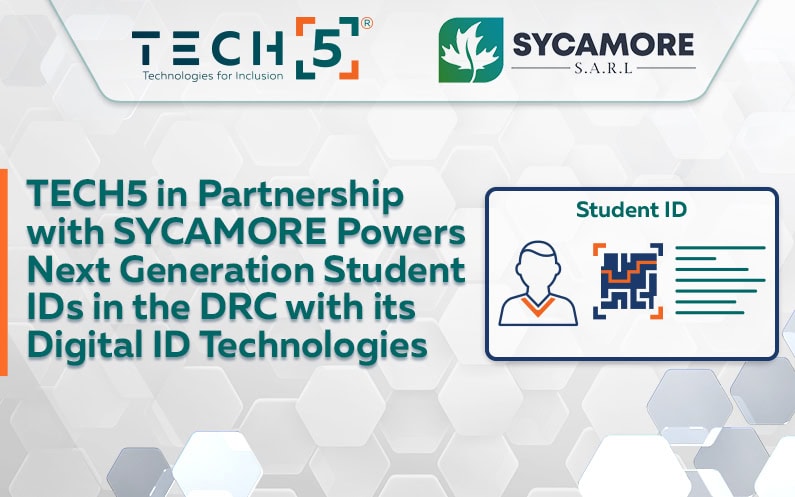 TECH5, an innovator in the field of biometrics and digital identity management, in partnership with Sycamore, a technology solution provider for the Government and private sectors in the Democratic Republic of Congo (DRC), are making available Digital ID technologies and platforms for credential issuance and verification to issue next-generation student IDs for universities in the DRC.
Students in Kinshasa, where the project started at the end of 2022, now have innovative biometrically verifiable credentials printed on their student ID cards that not only give them access to campus facilities but can be used in lieu of transport cards for boarding student buses. Given the success of the implementation in Kinshasa, the program will be introduced by SYCAMORE throughout the DRC.
The credential printed on a student's ID card is in the form of a T5-Cryptograph – TECH5's innovative printable biometric ID. It allows for the storage of a student's data in an encrypted format, linking the ID to the student biometrically. Furthermore, the T5-Cryptograph allows for the verification of the student against the stored biometric data at any time in a completely offline manner, using any certified mobile device. This approach increases security on the university campus as well as on transport vehicles because it precludes ID swapping and guarantees the identity of the student.
The project is powered by TECH5's T5-OmniMatch DIT (Digital Identity Toolkit) for contactless biometric capture and verification together with the T5-IDencode credential issuance platform for creating and providing T5-Cryptographs that contain a student's facial biometrics and demographic data.
"This project demonstrates how T5-Digital ID can be used to make student IDs multi-functional, secure, and biometrically verifiable with no need for smart cards or purpose-built devices for verification, and no need for an internet connection to a central database. We are proud to contribute with our technologies to develop a solution that allows students of the DRC to be equipped with next-generation IDs in a cost-efficient and expeditious manner." – Says Ameya Bhagwat, SVP of Sales and Business Development at TECH5 Group.
"We are glad to partner with TECH5 for this important implementation where innovation serves to increase security. I am looking forward to future projects with TECH5 to implement digital ID technologies across various verticals in both government and enterprise sectors, to provide the best biometric solutions available on the market." – Comments Michel Gamero, Deputy CEO at SYCAMORE.
In the project's first year, SYCAMORE plans to provide 1 million next-generation student IDs and then increase the issuance to 5 million IDs per year.
About TECH5®
TECH5 is an international technology company founded by experts from the biometrics industry, which focuses on developing disruptive biometric and digital ID technology offerings through the application of AI and Machine Learning. A combination of sustained investment and single-minded dedication to the development of biometric modalities that capitalize on AI has resulted in TECH5's algorithms being consistently ranked in the top tier of NIST ranking for face, fingerprint and iris recognition technologies. TECH5 target markets include both Government and Private sectors with products powering Civil ID, Digital ID, as well as authentication solutions that deliver identity assurance for various use cases globally.
Media Contact
Yulia Thomas, VP Marketing, TECH5
E-mail: [email protected]Website
www.tech5.ai
About SYCAMORE
SYCAMORE is a technology solution provider for the Government and private sectors in Congo. Sycamore comprises of professionals, who are committed to delivering world-class services to public sector clients, private sector corporate customers, and partners in the DR Congo. We deliver comprehensive consulting and project management solutions to integrate the complex Congo market.
Media Contact
Michel Gamero, Deputy CEO
E-mail: [email protected]; [email protected]
Website
www.sycamore.cd