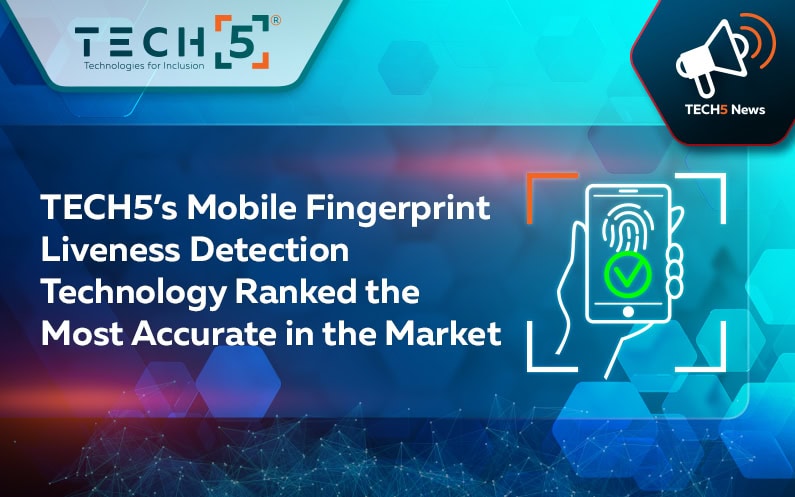 TECH5, an innovator in the field of biometrics and digital identity management, won the first and second positions in the Liveness Detection (LivDet) 2023 Non-contact Fingerprint international competition, with its latest NN (neural network) based fingerprint liveness detection technology for mobile devices.
The LivDet 2023 Non-contact Fingerprint is the first edition of the non-contact-based liveness competition for algorithms and systems jointly organized by Clarkson University (USA) and the University at Buffalo (USA). The objective of this edition is to assess and report the state-of-the-art in Presentation Attack Detection (PAD) for non-contact-based fingerprint recognition. The competition follows a common evaluation protocol, which includes finger photos of both a variety of Presentation Attack Instruments (PAIs) and live fingers to the biometric research community, allowing for fair and exhaustive testing of the submitted technologies.
TECH5 participated in the 2023 LivDet Non-contact Fingerprint competition to evaluate its latest NN-based fingerprint liveness detection algorithm and has achieved first and second ranks in the "Systems" category for both single- and four-fingerprint liveness detection algorithms respectively. Both submissions achieved the lowest error rates on bonafide (live) fingerprints. TECH5 achieved 100% accuracy in detecting complex spoof types such as Ecoflex, Playdoh, wood glue, and latex with its groundbreaking Neural Network model that is only 1.5MB in size, setting a new industry benchmark for both accuracy and efficiency.
It is critical to be able to detect and confirm the liveness of fingerprints during self-onboarding and remote verification scenarios, which are increasingly underpinning many banking, government and other processes which enable such interactions without needing to visit branches and offices.
"We are delighted to share these fantastic results of our research team's effort, leading to a development of algorithms that are twenty times more accurate than the nearest competition in the evaluation, making it effectively the best NN-based fingerprint liveness detection technology in the world." – says Rahul Parthe, Co-founder, Chairman, and CTO of TECH5.
The technology is available to TECH5's certified partners globally as part of T5-AirSnap Finger contactless capture technology for mobile devices, allowing for fast, frictionless and accurate fingerprint capture using the camera of a mobile phone. T5-AirSnap Finger efficiently captures and prepares biometric data for further processing in compliance with interoperability standards. The algorithms can be used for both enrolment and authentication on a mobile device and backend.
T5-AirSnap Finger technology is already deployed and in operation in the market. TECH5 has also been participating with the same technology in the UK Home Office Biometric self-enrolment trials consistently since 2021. Furthermore, TECH5's fingerprint capture and matching technologies are part of ongoing evaluations by NIST (National Institute of Standards and Technology) and the FBI as part of the standardization and certification of such technologies.